TRANSITION TO BE PUBLICLY ANNOUNCED AT THE QUARTET'S SAN FRANCISCO PERFORMANCES FEBRUARY 29 CONCERT AT HERBST THEATRE
The 39-year-old, San Francisco based Alexander String Quartet  (ASQ) announces the retirement of violist Paul Yarbrough, who will be succeeded by David Samuel. The public announcement will be made at their San Francisco Performances Saturday Morning Series performances at the Herbst Theatre on February 29, at which time Yarbrough will be honored and Samuel introduced. Yarbrough's final performance as a member of the ASQ will be Saturday, May 16, at 10 a.m. at Herbst Theatre, closing the 2019-2020 San Francisco Performances Saturday Morning Series. Samuel will officially join the Quartet in the summer of 2020. For more information, visit asq4.com.
As a founding member, Yarbrough performed with the award-winning ASQ from the beginning. He and the other members have been carefully planning his departure for two seasons. He will appear as a guest artist with the Quartet for two seasons of quintet repertory, and, he will continue to perform as a soloist, will teach and pursue personal projects. David Samuel has a long history of working with the ASQ as a guest artist, in recording and education projects, and has a prestigious career as a chamber musician, soloist and orchestral musician, making him an excellent choice for the 39-year-old Quartet. He is currently Associate Principal Violist with the Auckland (NZ) Philharmonia Orchestra and serves on the faculty of the University of Auckland.
After Samuel comes on board in the summer of 2020, the Quartet will comprise one founding member, cellist Sandy Wilson; as well violinist Fred Lifsitz, a member for 33 years; violinist Zakarias Grafilo, who has been with the ASQ for 19 years, and newcomer Samuel.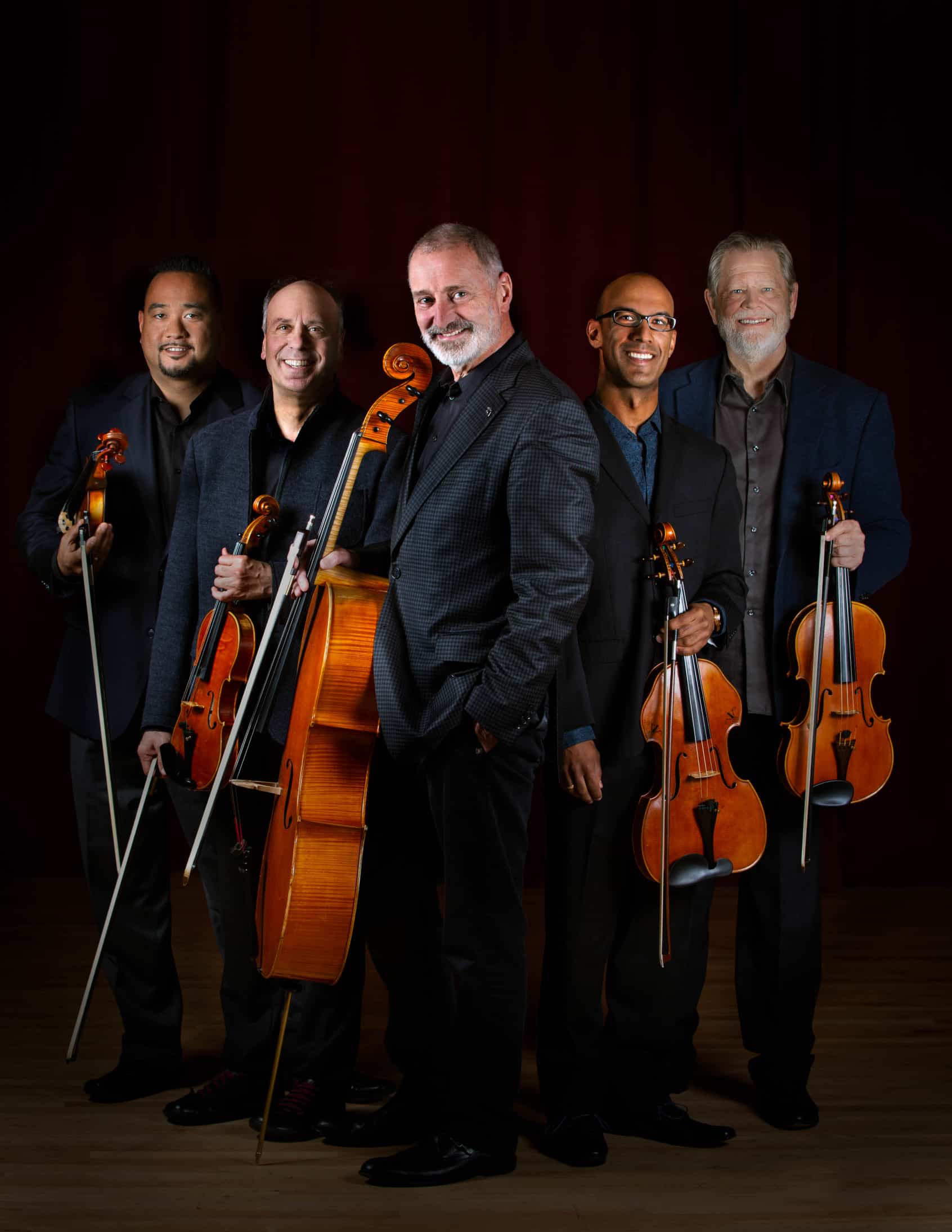 "We are doubly fortunate," says Alexander "Sandy" Wilson, cellist and founding member of the ASQ. "Paul has been an inspiring and positive colleague and friend for nearly 40 years. We are all grateful for his partnership, vision and longevity—and it's great that we are not really saying goodbye just yet, as he will join us as a guest artist for two seasons of quintets. Because of his long working association with the ASQ, David is a perfect fit: a superbly accomplished musician and someone who 'gets us" as much as we get him. This kind of rapport is rare and important in welcoming new blood. Our future looks bright."

"Chamber music is where my heart is, and I am absolutely thrilled to join the Alexander," says David Samuel. "They are all great friends and I have worked, performed and recorded with them throughout my career. San Francisco has always felt like home to me and so joining the Alexander String Quartet is a homecoming on many levels. I am excited to be part of the next chapter of this great ensemble."
"The ASQ with Paul Yarbrough have called San Francisco Performances their home for 30 years," says SF Performances President Melanie Smith. "They create deep and inspiring connections between music, musicians, audiences and the public through performances and education activities. This is a well-thought-out, forward-looking transition that will ensure that the ASQ are part of SF Performances, the Bay Area and national musical landscape for years to come."
About David Samuel
Violist David Samuel is currently the Associate Principal Viola of the Auckland Philharmonia Orchestra, a position he has held since 2015, and is also the Convenor of Classical Performance and a Professional Teaching Fellow in Viola at the University of Auckland. He was previously the violist of Ensemble MidtVest in Denmark and was the founding violist of the Afiara Quartet. During his eight year tenure with the quartet, Mr. Samuel performed more than 100 works for string quartet in over 400 concerts worldwide. In addition to being the first ensemble ever to receive the Young Canadian Musicians Award, the Afiara Quartet was a top prize winner at the ARD International Music Competition in Munich, the Banff International String Quartet Competition and the Concert Artists Guild Competition.
Samuel has performed at Wigmore Hall, Berlin Konzerthaus, the Esterházy Palace, Carnegie Hall, Lincoln Center, The Kennedy Center, Library of Congress, at the headquarters of both LinkedIn and Facebook, and on The Late Show with David Letterman. He has performed chamber music with Robert Mann, Pinchas Zukerman, Atar Arad, Michael Tree, Colin Carr, Marc Johnson, Joel Krosnick, Sergio Azzolini, James Campbell, Jörg Widmann, and members of the Alexander, Cecilia, Danish, Emerson, and Juilliard String Quartets. Mr. Samuel has recorded for CPO, Dacapo, Foghorn Classics, and Naxos, and has worked as a producer most recently for a recording of Mozart chamber music with the Alexander String Quartet and pianist Joyce Yang.
He received his Bachelor and Master of Music as well as an Artist Diploma from The Juilliard School. He also received an Artist Certificate in Chamber Music from the San Francisco Conservatory of Music. His principal teachers were Paul Hersh, Henry Janzen, Michael Tree, and Karen Tuttle.
About the Alexander String Quartet
The Alexander String Quartet has performed in the major music capitals of five continents, securing its standing among the world's premier ensembles, and a major artistic presence in its home base of San Francisco, serving since 1989 as Ensemble in Residence of San Francisco Performances and Directors of The Morrison Chamber Music Center at San Francisco State University. Widely admired for its interpretations of Beethoven, Mozart, and Shostakovich, the quartet's recordings have won international critical acclaim. They have established themselves as important advocates of new music commissioning dozens of new works from composers including Jake Heggie, Cindy Cox, Augusta Read Thomas, Robert Greenberg, Cesar Cano, Tarik O'Regan, Paul Siskind, and Pulitzer Prize-winner Wayne Peterson. Samuel Carl Adams' new Quintet with Pillars was premiered and has been widely performed across the U.S. by the Alexander with pianist Joyce Yang, and will be introduced to European audiences in the 2020-2021 season.
The Alexander String Quartet's annual calendar includes engagements at major halls throughout North America and Europe. They have appeared at Lincoln Center, the 92nd Street Y, and the Metropolitan Museum; Jordan Hall; the Library of Congress; and chamber music societies and universities across the North American continent including Yale, Princeton, Stanford, Lewis and Clark, Pomona, UCLA, the Krannert Center, Purdue and many more. Recent overseas tours include the U.K., the Czech Republic, the Netherlands, Italy, Germany, Spain, Portugal, Switzerland, France, Greece, the Republic of Georgia, Argentina, Panamá, and the Philippines. Their visit to Poland's Beethoven Easter Festival is beautifully captured in the 2017 award-winning documentary, Con Moto: The Alexander String Quartet.
Distinguished musicians with whom the Alexander String Quartet has collaborated include pianists Joyce Yang, Roger Woodward, Menachem Pressler, Marc-André Hamelin, and Jeremy Menuhin; clarinetists Joan Enric Lluna, Richard Stoltzman, and Eli Eban; soprano Elly Ameling; mezzo-sopranos Joyce DiDonato and Kindra Scharich; violinist Midori; violist Toby Appel; cellists Lynn Harrell, Sadao Harada, and David Requiro; and jazz greats Branford Marsalis, David Sanchez, and Andrew Speight. The quartet has worked with many composers including Aaron Copland, George Crumb, and Elliott Carter, and enjoys a close relationship with composer-lecturer Robert Greenberg, performing numerous lecture-concerts with him annually.
In 2019 the FoghornClassics label released their recordings of the Late Quartets of Mozart following the 2018 release of Mozart's Piano Quartets with Joyce Yang. Other major releases have included the combined string quartet cycles of Bartók and Kodály; the string quintets and sextets of Brahms with Toby Appel and David Requiro; the Schumann and Brahms piano quintets with Joyce Yang; and the Beethoven cycle. Their catalog also includes the Shostakovich cycle, Mozart's Ten Famous Quartets, and the Mahler Song Cycles in new transcriptions by Zakarias Grafilo.
The Alexander String Quartet formed in New York City in 1981, capturing international attention as the first American quartet to win the London (now Wigmore) International String Quartet Competition in 1985. The quartet has received honorary degrees from Allegheny College and Saint Lawrence University, and Presidential medals from Baruch College (CUNY). The Alexander plays on a matched set of instruments made in San Francisco by Francis Kuttner, known as the Ellen M. Egger quartet.