On April 7, 2023, the Alexander String Quartet and guitarist William Kanengiser release British Invasion on Foghorn Classics!
British Invasion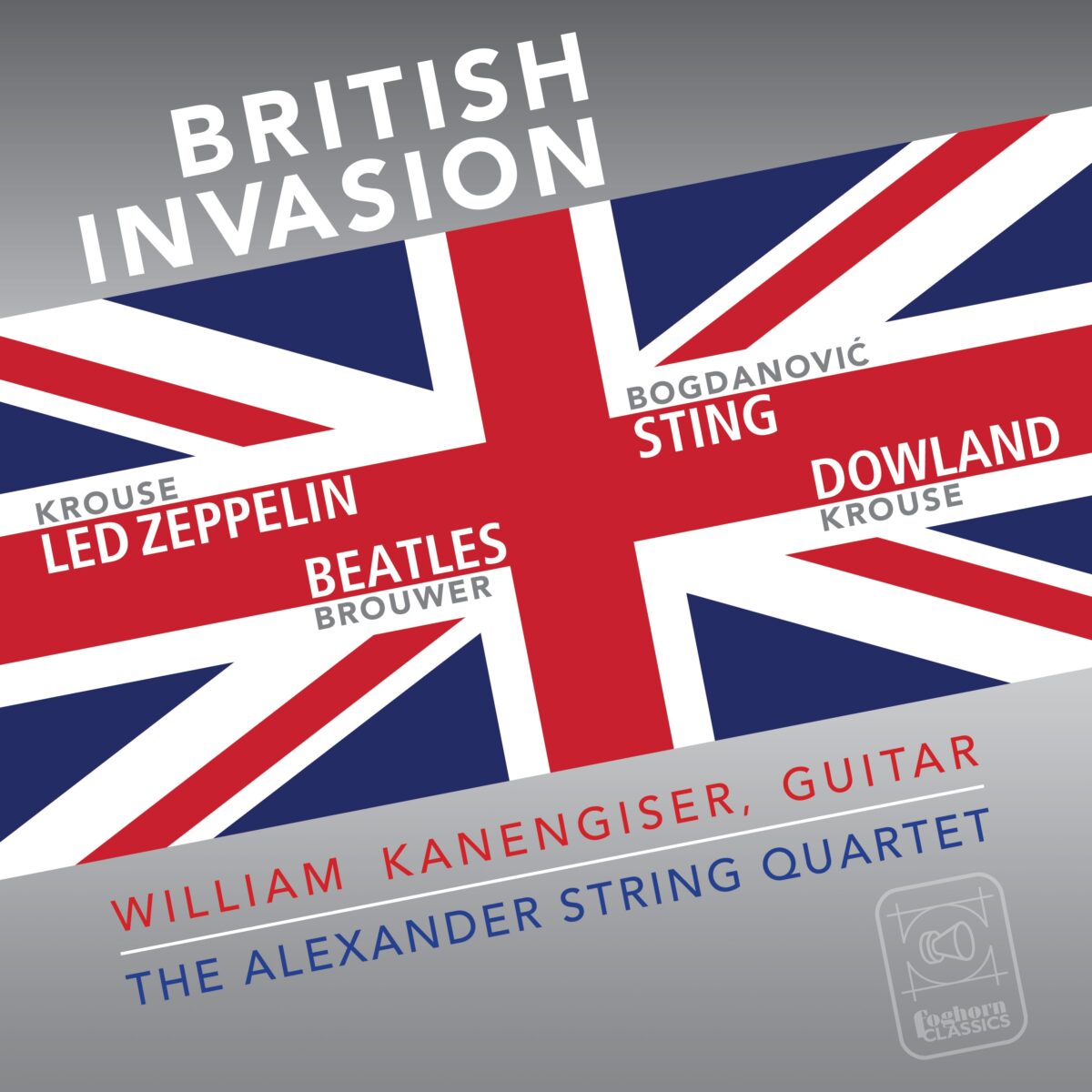 The Alexander String Quartet and guitarist William Kanengiser form a dynamic collaboration that explores the music of Sting, Led Zeppelin, John Dowland and The Beatles by way of contemporary composers Ian Krouse, Dušan Bogdanović and Leo Brouwer.
In this project, William Kanengiser and the Alexander String Quartet pay tribute to a group of English musicians who conquered the musical world with their revolutionary explorations. From the Elizabethan lutenist John Dowland to the pop/rock icons Sting, The Beatles and Led Zeppelin, these artists made a lasting impact far from the shores of their small island. Their music served as inspiration for a set of compositions for guitar and string quartet by the talented composers Ian Krouse, Dušan Bogdanović and Léo Brouwer. It is especially appropriate that the guitar sits squarely at the center of these works, as the plucked string was the primary musical voice of these British innovators.
William Kanengiser
WILLIAM KANENGISER has forged a career that expands the possibilities of the classical guitar. A prize winner in major competitions (1987 Concert Artists Guild International Competition, Toronto Guitar '81), he has toured throughout North America, Asia, and Europe with his innovative programs and expressive musicianship. An active proponent of new music and prolific arranger, he created the original production, The Ingenious Don Quixote. Founding member of the Grammy-winning Los Angeles Guitar Quartet, he has given hundreds of recitals and concerto appearances around the world, and has recorded over a dozen releases.
The Alexander String Quartet
THE ALEXANDER STRING QUARTET has performed in the major music capitals of five continents and is a major artistic presence in its home base of San Francisco, serving as Directors of The Morrison Chamber Music Center Instructional Programs, as well as Ensemble-in-Residence of San Francisco Performances and the Mondavi Center (UC Davis, CA). Important advocates of new music, they have commissioned or premiered over 35 new works. On the Foghorn Classics label, they have released 23 CDs (comprising 37 discs). ASQ is the subject of the award-winning documentary, Con Moto: The Alexander String Quartet (2017).